Color affect us in many ways, especially for metallic palettes. In industries for example automotive, metallic colors are widely used to make products distinctively appealing to buyers. Metallic car paint is made by adding fine grounded aluminum into pigmented or unpigmented paints. Those metallic flakes when viewed under microscope will cause sparkle effect. In other words, it will provide sparkles that differ in size, brightness and color depending on the viewing angle.
HOW TO MEASURE METALLIC COLOR?
When measuring metallic colors, multi viewing angles are necessary to fully capture the color travel because of the formulation and interference of metallic flakes present in the coating. A portable multi-angle spectrophotometer is recommended for analyzing metallic paint color. A multi-angle spectrophotometer like X-rite MA94 can easily measure metallic colors at 5 viewing angle at 15, 25, 45, 75 and 110 to make sure fully capture color travel.

Some X-rite Metallic Colour Measurement Principle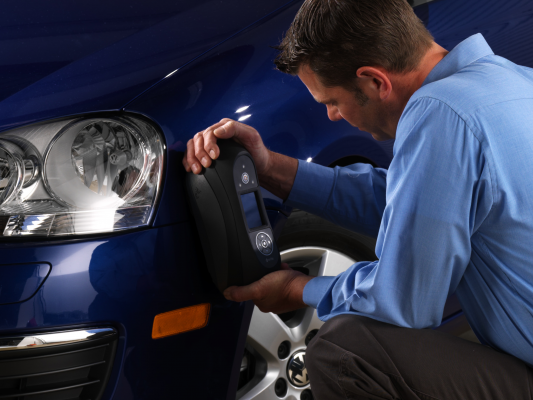 BENEFIT OF USING X-RITE MULTI-ANGLE SPECTROPHOTOMETER MA94
Accurate, repeatable sample positioning

Bundled with X-Rite's exclusive X-Color QC measurement and analysis software

Program measurement position and sequence

Increased lamp life, reduced battery consumption

International standards ready
---
We will be glad to provide FREE new system consultation, upgrade or service repair as and when you need it.
---