We are now slowly moving past the third industrial revolution and are advancing into Industry 4.0. Unlike the more drastic changes from between the previous industrial revolutions, however, Industry 4.0 simply takes the automation and machinery from the third and makes it better. How? Through smart systems using data and machine learning; the Internet of Things (IoT) and AI to connect these machineries together to allow factories to run well without any human – a smart factory.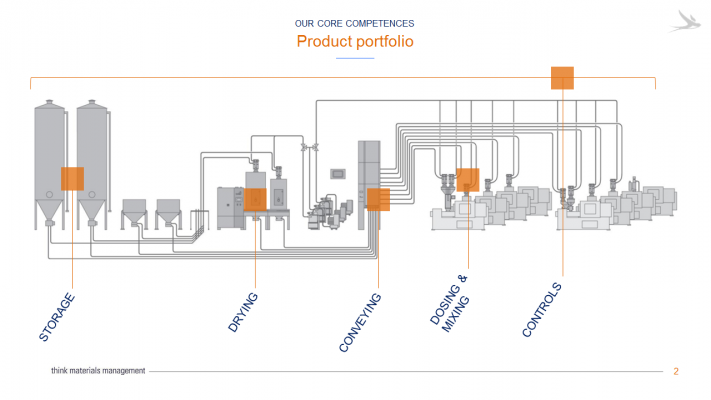 We are helping our customers to bring the production to a whole new level by automating your material handling system to your preferred degree – beginning from single dosing units with an exact scaling up to the complete control and visualization of the whole system, including the integration of the silos. Our smart concepts for small and large scale, high-quality machines, combined with our local technical support will undoubtedly ensure your processes are safe.
Our first step is to analyze your existing production processes and material flow to identify your individual requirements/needs together with you. Based on this information, and together with our deep process know-how in different applications in the plastics industry, we then develop a smart tailor-made concept up to the required level of automation. Our concept provides flexibility for enhancements should you encounter the need for future adaptations.
Advantages of Central Material Handling System
Stable production process

Continuous high-quality production

Energy and cost saving

Reduction of manpower for material distribution

Errorless material distribution

Reduced material loss

Scalable / upgradable system

Reduced factory footprint

Clean and safe production environment
---
We will be glad to provide FREE new system consultation, upgrade or service repair as and when you need it.
---