A double beam spectrophotometer compares the light intensity between two light paths: one path containing a reference sample and the other the test sample.  Samples for UV-VIS spectrophotometers are mostly in liquids form and are typically placed in a transparent cell, known as a cuvette.
Advantages of using UV-VIS Double Beam Spectrophotometer
It facilitates rapid scanning over wide region.

Fluctuations due to radiation source are minimized.

It doesn't require adjustment of the transmittance at 0% and 100% at each wavelength.

It gives ratio of intensities of sample & reference beams simultaneously.
Applications of using UV-VIS Double Beam Spectrophotometer
Semiconductors Manufacturing Industry

Laser and Optical Manufacturing Industry

Printing Industry

Plating Industry

Pharmaceuticals Industry

Automotive Industry
Special Features of UV-VIS Double Beam Spectrophotometer
Lead Screw Structure

: So that the instrument wavelength accuracy and wavelength resolution can be greatly improved.

Auto Setting Wavelength

: To avoid operation errors.

Numerical Keys

: All parameters can be easily set up by numerical keys.

8mm thick optical base

: To ensure instrument stability and reliability

Branded high quality deuterium lamp

: 

Photometric accuracy and easy replacing.

Standard curve

: Ability to set up various standard curves according to customer's solutions and find the concentration of unknown solutions.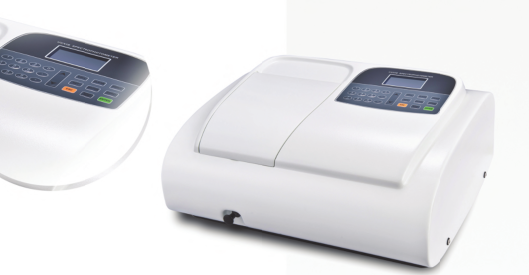 ---
We will be glad to provide FREE new system consultation, upgrade or service repair as and when you need it.
---