Muffle furnaces are specially designed for heat treatment (with maximum temperature between 1100°C, 1200°C or 1300°C) in a compact and convenient manner. Making it suitable for laboratories, educational institutions, research & development facilities, ceramic studios, industrial laboratories, additive manufacturing and so on.
Its heating capability can be supplied by combustion fuel, by electricity (i.e. electric arc furnace) or through induction heating (i.e. induction furnace).
 Application   
Tempering, carburizing, annealing, hardening, and quenching, solution annealing, forging, curing, preheating, drying, ageing – are the most common applications accordingly to the requirements of the furnaces and plants.
 Specialty 

 
High-temperature testing device that isolates subject material from the combustion fuel, gases and flying ash.
The walls of the enclosed area act as a catalyst to heat up the contents inside without direct contact with the flame.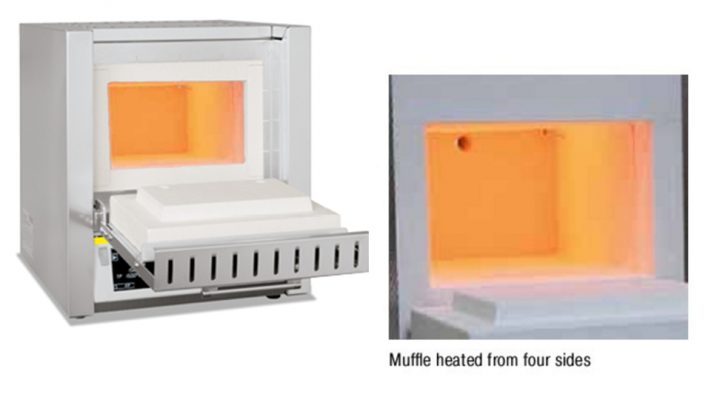 Heat is prevented from escaping the furnace to produce effective & efficient results.
Widely used to test the characteristics of the material, accordingly to application.
Determines the percent of ash content in those materials.
Provides analysis data on how to refine metallurgical materials better.

Tests which part

of the specimen/samples

is non-combustible

and non-volatile.
 Type of Muffle Furnace 

 
With Flap Door or Lift Door

With Brick Insulation or with

Embedded Heating Elements

in the Ceramic Muffle 
 Benefits
Environmentally friendly – Prevents additional pollution

Fast heating time + Low power consumption

High thermal efficiency

Temperature Regulation – Good stability and uniformity on the distribution of heat 

Save cost on manual labor  + Less manual work
Durable & reliable for long-term use
From the compact hardening furnace to fully-automatic plants with conveying technology and process documentation, for most heat treatment processes that are used in additive manufacturing, we will certainly find a solution tailored to your application.
 Other Variation of Furnaces  
High temperature furnace with SiC rod / MoSi / molybdenum heating elements

High-temperature bottom loading furnaces

A high-temperature furnace with scale for determination of combustion loss and thermogravimetric analysis (TGA)
---
Need equipment or advice on Heat Treatment or Furnaces?
Reach out to our expert today for a professional recommendation.
Mr. Yap Hon Loon, Product Specialist, +6012 -3925901, [email protected]  
Mr. Zaheem bin Hagir, Product Specialist, +6012-223 1813, [email protected]  
You can browse our list of Industrial Furnaces, Other Heat Equipment, and Services 
---
---
View original post here