Desktop Labelling Machine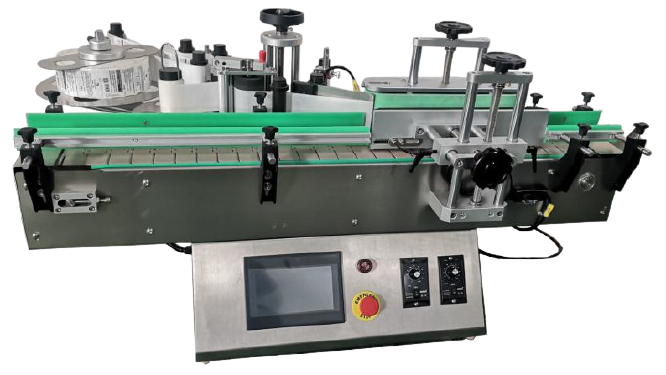 Summary
The NP-AT desktop paste standard sample machine is designed to achieve rational production goals. Labeling is automated operation, simple operation, high efficiency, beautiful and neat. Suitable for round bottle and flat bottle in the pharmaceutical, food, daily chemical industries, etc. and can label wrap-around labels and semi-circle labels. Be optional of automatic bottle feeding turntable, which can be directly connected to filling line, and automatically feed bottles into the labeling machine to improve efficiency. Be optional of ribbon coding and labeling machine, which can print production date and batch number online, reduce bottle packaging procedures and improve production efficiency.
Suitable range is big, can label wrap-around labels and semi-circle labels, Simple label switching with different bottles.
The labeling accuracy is high, and the subdivision stepping motor or servo motor drives the label delivery, and the label delivery is accurate; the label tape deflection correction mechanism is designed to ensure that the label does not deviate from left to right during the traction process; the eccentric wheel technology is applied to the traction mechanism, and the traction label is not Skid to ensure accurate bidding.
Rugged and durable, adopting a three-bar adjustment mechanism to make full use of the stability of the triangle, the whole machine is solid and durable.
High stability, advanced electronic control system composed of one-button control system and high subdivision motor developed by Npack, which supports 7×24 hours operation of the equipment.
Flexible application, it can be produced on a single machine or connected to an assembly line, and the layout of the production site is simple.
Intelligent control, automatic photoelectric tracking, with the functions of no labels not labeling, adjustment automatically with no labels, label detecting automatically, which to in case of missing labels and label waste.
Touch Screen operation interface, various parameter adjustments are simple and quick, and the operation is convenient.
Powerful, with production counting function, power saving function, production number setting prompt function, parameter setting protection function, convenient for production management.
1. Coding device
2. Bottles feeding automatically
3. Bottles collecting automatically
4. Labeling head could be added or direction be changed
5. Other customized functions
After the bottle-separating mechanism separates the products, the sensor detects the passing of the product and sends back a signal to the labeling control system. At the appropriate position, the control system controls the motor to send out the label and attach it to the position to be labeled on the product. The product flows through the labeling device. The labeling belt drives the product to rotate, the label is rolled, and the attaching action of a label is completed.
Operation process: release product (can be connected to the assembly line) -> product delivery (automatically realized by equipment) -> product separation -> product inspection -> labeling -> labeling -> collecting labeled products. 
Tutorial